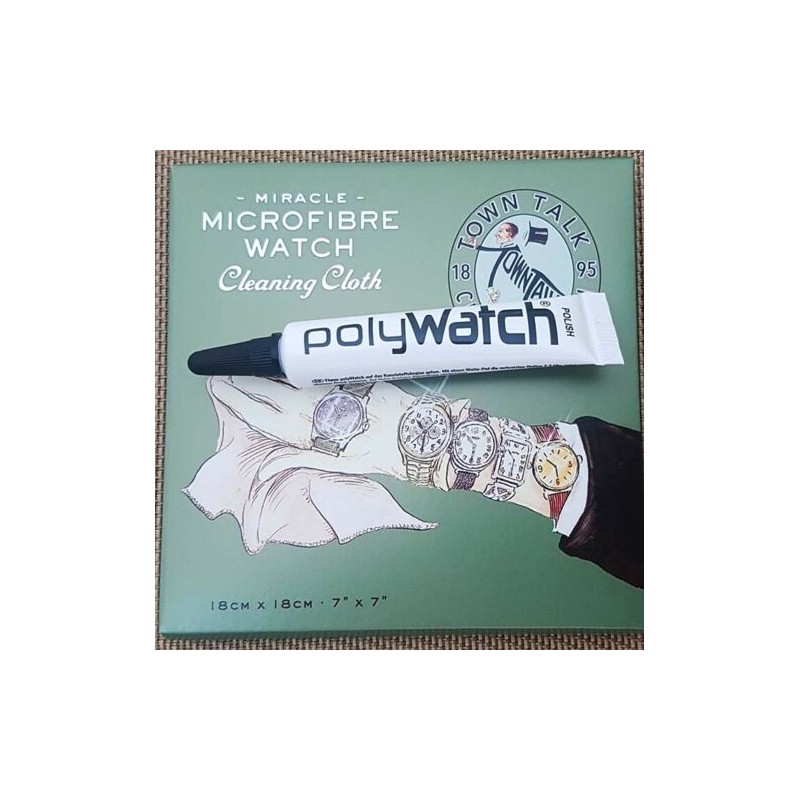  
Polywatch & Watch cloth Scratch Remover Kit
polyWatch (plastic polish) & Town Talk watch cleaning cloth 18 x 18cm set.
The set includes: Miracle microfibre watch cleaning cloth - 18cm x 18cm /7″ x 7″  & polyWatch - plastic polish. Made in Germany.
How to use: Apply polyWatch to your plastic watch crystal. Polish the sctratched areas for 2-3 minutes with pressure, using a the Town Talk watch cleaning cloth. Deep scratches may need to be treated more than once. 
Why does it work so powerfully? Simply, it is a combination of perfect German plastic polishing paste and top quality English microfibre cloth. 

Just two tips: remove all residue with a clean cloth and don't apply any polish to the pushers and winding crown. (If you accidentally do, wipe it with a warm water damped cloth, then dry well).   

THE MAGIC works on any plastic glass, regardless of the watch brand -  Omega Moonwatches, Omega Speedmaster Reduceds, TAG Heuer, Rolex plastic Subs/GMT Masters down to humble Swatch watches.